Kimi wo Shiru Koto

Limited Edition Cover

Japanese

君を知ること

Performed By

Ika Musume (Hisako Kanemoto)

Release

Nov 16, 2011

Catalog

Regular Edition: LASM-4116
Limited Edition: LASM-34116
Outro theme of anime series Shinryaku!? Ikamusume sung by Ika Musume (Hisako Kanemoto). Composed and written by Saori Atsumi. Includes Ika Musume's first ballad song and more for four tracks total.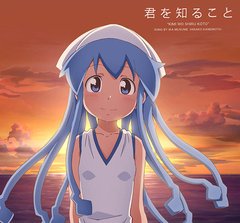 This single was released in 2 editions on the same day.

The limited edition comes with a bonus DVD with a music clip and more. The DVD disc is encoded for region 2 (Japan, Europe, and Middle East), and no subtitles are included.